Y1 ASt & EWn - A Few Reminders
Y1 ASt & EWn - A Few Reminders
7 October 2020 (by Amelia Stanley (amelia.stanley))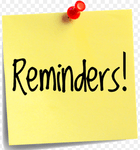 Just a few reminders....
Tomorrow (8th) is wear bright colours day to celebrate Harvest Festival in school. Children can wear bright coloured clothes for a £1 donation to CAFOD - please can you pay the donation through Parent Pay. We are also still taking food donations which can be brought to your child's class. We can't wait to see your bright colours tomorrow!
There are a few diaries where pages 7-9 are not signed - please could you check and sign if necessary so we can put your child's photos on the class news page, they may also then appear in the newsletter!
Finally....photos are not appearing on the app properly so please visit the website either on the computer or via safari ,so that you can see the photos of all the learning which we have been doing. We looked at them today in class and they are so excited to share them with you!
Thank you for all your on-going support!
The Year 1 Team.