Y2 TDo - Our African Day!
Y2 TDo - Our African Day!
7 October 2020 (by Teresa Doohan (teresa.doohan))
What did we do today...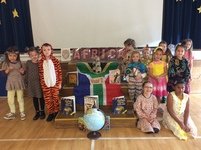 Today we celebrated our Geography topic by having a fun African day.
We started our day with a fun parade to show what we had chosen to wear. Some children came as wild animals. Others chose to wear traditional clothes or bright colours.
The morning was filled with fun activities: dancing, listening to stories and sharing our fun animal facts. After break, we had a virtual tour in our pretend helicopter to visit all the human and physical features found in Africa. My favourite is Victoria Falls. Which part of Africa would you like to visit and why?
After lunch, during Art, we created a stunning sunset using a paint blending technique. Finally, during ICT, we created a pattern on the computer. We have printed this off and will use it to make a beautiful new dress for Handa who lives in Kenya.
What a wonderful day!
Thank you to all the Year 2 parents for supporting this fun day.