Y2 TDo- Term 1 Learning Hero
Y2 TDo- Term 1 Learning Hero
13 October 2020 (by Teresa Doohan (teresa.doohan))
Who will be our Resilient Red Learning Hero this term?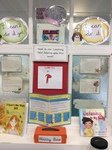 The children have all settled really well and are all trying to stay on task, even when the work is a challenge. We have been working really hard to be more resilient. This means staying calm and having a 'I can't do it yet!' positive growth mind-set instead of saying 'I can't do it!' and giving up. Talk to your child about what they do if the work seems difficult. We are encouraging them to have a go or to talk about what they are finding difficult with their partner or teacher. This shows that the children are great becoming more independent learners.
Which children will the teachers choose to be our learning hero next week..?