Y1 - EWi - Harvest
Y1 - EWi - Harvest
16 October 2020 (by Emma Williamson (emma.williamson))
This week we celebrated Harvest!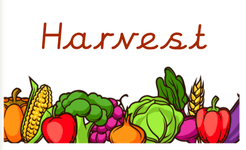 This week we had our own 'Harvest Festival' as we aren't allowed to currently celebrate in Church. We wanted to give our thanks to God for all of the food that he provides, and we thought of different ways to celebrate.
We came up with:
A party

Singing/dancing

Art

Prayers

Donating to others
We had a little dance to 'The Harvest Samba' and prayed together as a class, giving our thanks. You all donated so much food last week on our 'bright colours' day, we're going to make a real difference to those who need it.
I will add our photos of the art we made to the gallery for you all to see.
Miss Williamson.