Y6 JHa - Science, F1 and half teeeerrrrmmmm
Y6 JHa - Science, F1 and half teeeerrrrmmmm
23 October 2020 (by Joe Hamill (joe.hamill))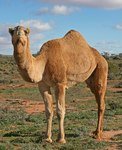 We are halfway through our science topic: evolution and adaptation. Today our lesson involved research: half the class researching polar bears' adaptations to survive in their harsh arctic climate and the other half taking notes from a video about how camels (Mr. Camels) have adapted to their equally challenging desert conditions. Pictures, as usual, are on our main page.
It is also now HALF TERM! A big thank you from me to everyone in Y6 and in our class especially for making it a wonderful start to the year and a fabulous term to teach!
And I leave you with news that Formula 1 is back again this weekend. The Portuguese Grand Prix starts today and concludes with the race itself at 1pm on Sunday. Definitely not to be missed. Renault will be full of confidence from their podium last time out and the overtaking at turn 1 should provide plenty drama!
Have a lovely week
Mr H.