FS2 MHA - Castles
FS2 MHA - Castles
5 November 2020 (by Megan Harrison (megan.harrison))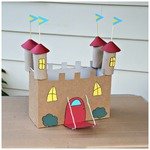 You would have received a slip in your child's book bag about a competition we run every year when teaching our topic fairy tales.

The children are encouraged to design, make, build a castle! Now, normally the children get to bring the castles into school to share and even play with them but due to current situations we cannot do this.

We ask that you bring a photo or email a photo to school to share what you have made and to talk about it and we will hold the competition this way.


We can't wait to see what you get up to so get ready, get set and make!


deadline: 04.12.2020