Y2 TDo - British Values
Y2 TDo - British Values
9 November 2020 (by Teresa Doohan (teresa.doohan))
Why are we learning about the Armed Forces?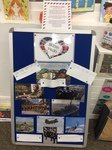 Today, we learnt about the different groups of men and women who work in the armed forces. The children thought of all the wonderful adjectives they could use to describe these people who help to keep us safe. Some children used the word choices: proud, brave, kind, loving and strong. Talk to your child about the armed forces and how we show that we will never forget them.
On Wednesday we will be going on to the playground for our two minutes of silence when we will be thinking about all of the people who died during the first and second world wars. Please encourage your child to wear a poppy during our remembrance service on Wednesday.