Y2 TDo- Reading
Y2 TDo- Reading
10 November 2020 (by Teresa Doohan (teresa.doohan))
Reading is the most important skill we can teach our children!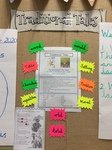 Do you read a bedtime story to your child?
Does your child see you reading at home?
Do you hear your child read their reading book everyday?
The most important skill taught at school and home is reading. Please encourage your child to read everyday. Find time and a quiet space to enjoy looking at different books. Discuss the title, author, characters, setting, problem or adventure and moral of the story.
Today, we looked at the features of the traditional tale - The Three Billy Goats Gruff. Tomorrow, the children will be identifying the title, setting, characters, problem and moral of the story. Can your child identify these features?
Moderation shows that most of the children who were reading Lev 9-10 were successful meeting the Year 2 AREs and passing their end of Year 2 SATs which will be in May 2021. Please note, the reading paper and questions cannot be read to the child during this test. For more information look at a previous SATs paper online to see the challenge ahead! The text is long and challenging.
TEAM = Together Everyone Achieves More!