Y6 JHa - Science, music, English and ICT!
Y6 JHa - Science, music, English and ICT!
11 November 2020 (by Joe Hamill (joe.hamill))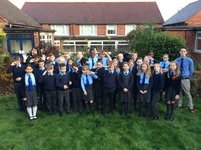 Science:
The best science is of course a healthy combo of theory and practicality. In the topic we've just finished, we switched between investigating examples of real fossilised ammonites and the important skill of note-taking.
Music:
As I'm sure you're all aware, the most effective way to get to grips with the changing note patterns in a piece of music is to give them actions! So, songs with actions are definitely not reserved for KS1 :)
English:
The Spider and the Fly - a cautionary tale about the dangers of vanity - is the subject of our English topic this term. To start our investigation of the characters, we had a go at putting the spider in the 'hot-seat' and asking him questions about his actions in the story. Some interesting answers for sure...
ICT:
"Website" is word of the term this term, and Y6 have been working hard to create their own in ICT lessons. They were given freedom, so the themes range from clothing stores to video games to dinosaurs - obviously an eclectic mix of interests in our class...
All the pictures of the above are on our main page
Stay tuned...
Mr Hamill.