Y6 JHa - Friday 13th: unlucky for some, but not for us!
Y6 JHa - Friday 13th: unlucky for some, but not for us!
13 November 2020 (by Joe Hamill (joe.hamill))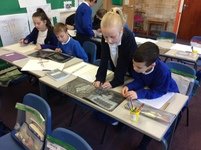 Definitely not for us: we're in the best class ever! Must admit, I've had a lovely week and I hope you all have too. Here is a whistle-stop tour of our fantastic learning this week:
Maths: Absolutely nailed decimals to the wall! And smashed TWO LESSONS IN ONE DAY! Of course, the children enjoyed doing Wednesday's F1 themed lesson as much as I did...
English: Working our way through our English topic on 'The Spider and the Fly'. Not long to go before we start our writing.
Grammar: Who is perfect? We are. And the past tense. Sometimes. Sometimes it's progressive. But we know that and that makes us perfect!
Spanish: Just get us to Spain guys because we're basically fluent now.
PSHE: Working together to support our prior knowledge (teaching buzz word right there thanks) and then some healthy debate and discussion. What more could you ask for on a Friday arvo?
Have a lovely weekend
Mr Hamill
P.S. Turkish Grand Prix this weekend don't miss it!