Y1 ASt - Seasons and Weather
Y1 ASt - Seasons and Weather
16 November 2020 (by Amelia Stanley (amelia.stanley))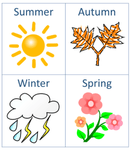 In our Geography and Science this term we are looking at the weather in different countries and during different seasons. We have been learning lots of songs to help us with remember lots of new information and the children have asked me to share the songs so they can continue listening at home! We even learnt about the Equator and that the counties closest to it are the warmest and the ones furthest away are the coldest!
https://www.youtube.com/watch?v=8ZjpI6fgYSY&safe=active
https://www.youtube.com/watch?v=K6DSMZ8b3LE&safe=active
Enjoy listening at home!