FS2 Google Classroom
FS2 Google Classroom
19 November 2020 (by Megan Harrison (megan.harrison))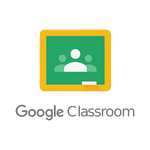 Please make sure you can log on to Google Classroom and Google Meet at home.
The instructions for accessing Google Classroom and Google Meet are on the website so please can you and your child login to make sure that you don't get any technical difficulties, and navigate your way around it.
If you have any problems then you can message us via the diary. Login details were stuck into your child's diary at the beginning of the school year.
This is crucial that you can access remote learning in case our bubble has to close.
Thank you.