Y5 NTu USA Day Tomorrow
Y5 NTu USA Day Tomorrow
19 November 2020 (by Nicola Turner (nicola.turner1))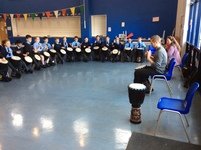 This week, the children have been busy. One of things we have been learning about is Judaism and the Jews celebration of the Seder Meal. Please ask your children to tell you about the story of the Passover and about the different symbolic foods eaten during the Seder. I have been very impressed with how much they have all remembered.
They have also enjoyed their drumming lesson (actually using drums). Please ask them to tell you about the different ways in which you can create sounds on a djembe drum.
Finally, we are all very much looking forward to our USA day tomorrow. This is just a reminder that children may wear an American themed outfit if they wish.