Y6 JHa - Our maths lessons speak volumes!
Y6 JHa - Our maths lessons speak volumes!
23 November 2020 (by Joe Hamill (joe.hamill))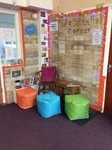 A practical activity in a maths lesson that involves measuring jugs and an oversized bucket of water... what could go wrong?! Besides, whoever said you can't have fun in Y6? Not me. AND it was only water so we didn't upset Gail too much this time... Anyway, our maths activity definitely held value as it helped hone our skills of scale reading, estimation and problem solving.
After we'd decided to stop messing around with jugs, it was time to knuckle down and write some stories! Most of them detail the sad demise of an earwig who meets a similar fate to that of the fly in 'The Spider and the Fly', but some have a more positive ending. Either way, they're all excellent and I'm very proud of Y6.
And there is just time for me to leave you with news of our superb new reading corner! The old cupboard that occupied this corner of our classroom has been given the heave-ho and Mrs. Woolley has created an excellent area for us to enjoy reading for pleasure in our spare time. The kids are loving it - sometimes it's difficult to keep them out!
As ever, pictures are in the gallery.
Stay tuned
Mr Hamill