Y6 JHa - Really, really, ridiculously good writing
Y6 JHa - Really, really, ridiculously good writing
24 November 2020 (by Joe Hamill (joe.hamill))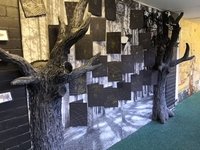 Have you ever wondered if there is more to life than just being really, really ridiculously good at writing? Our Y6s haven't, they just do it! We're so proud of our work, it is now on display for everyone in the school to see... If anyone were allowed to walk around the school that is.
Shout out to the fabulous Mrs Woolley for putting the display together - what would I do without you?!
If I don't see you through the week, I'll see you through the window.
Mr Hamill
P.S. Double Dojos for anyone who can identify the sentence in this post that is written in the subjunctive verb form!