Y6 JHa - Sphere not, Y6 are here!
Y6 JHa - Sphere not, Y6 are here!
26 November 2020 (by Joe Hamill (joe.hamill))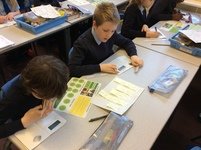 WE LOVE NETS! We also love Brazil and now we know loads about both. Check out the pictures in our gallery for evidence of our outrageous in-class antics this morning. We worked hard before break as great swathes of geographical knowledge were encased in recycled paper forever. Maths took us into the unfathomable depths of the third dimension, where 3D shapes were created and destroyed with downright criminal abandon.
Too much? Nah.
Mr Hamill
P.S. What do call a woman stood between two posts? Annette!
P.P.S Kudos to Mrs Woolley for the puntastic post title. Can you do any better? Dojos available for any Brazil or 3D shape themed puns.