Y1 ASt - Antibullying
Y1 ASt - Antibullying
27 November 2020 (by Amelia Stanley (amelia.stanley))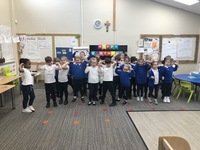 This week we have been learning about Antibullying and we have decided that we want to become antibullying Superheroes! We read a story about some carrots who believed that they were better than all the other vegetables - but they were taught a very important lesson that we are all equal and that we shouldn't be unkind to others.
We thought if we wanted to be antibullying superheroes we needed masks, badges and some hands which show people we are saying 'NO' to bullying.
Take a look at our superhero muscles...