Y6 MHe & JHa - The Christmas Crib
Y6 MHe & JHa - The Christmas Crib
2 December 2020 (by Mark Hemsley (mark.hemsley))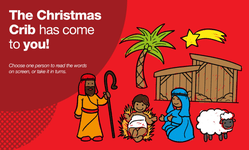 Due to social distancing restrictions this year, a 'Travelling Crib' in the traditional sense is not possible…so we are using Ten Ten's Covid-proof experience called The Christmas Crib.
This Advent, we are offering you and your child the chance to spend a special Christmas story/prayer time together at home. Your date to experience The Christmas Crib will be indicated on the letter. The link to the booklet, which will lead you through the experience, is attached below.
Before then, help your child prepare by encouraging them to colour in/decorate and cut out these crib cut-outs. On the day, have the pieces ready (unassembled) along with a candle if you wish.
Remember, keep your crib cut-outs for the stables we will be making before Christmas.