Y5 NTu - Advent Christmas Crib celebration
Y5 NTu - Advent Christmas Crib celebration
3 December 2020 (by Nicola Turner (nicola.turner1))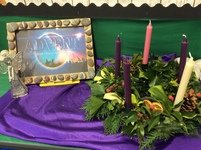 Due to social distancing restrictions this year, a 'Travelling Crib' in the traditional sense is not possible as it was last year so we are using Ten Ten's Covid-proof experience called The Christmas Crib.
This Advent, we are offering you and your child the chance to spend a special Christmas story/prayer time together at home.
If you visit Google classroom, you will see I have attached the slides for your special celebration at home. Also, the children will be bringing home a template they can use to create their crib figures. They will need these (unassembled) for your mini Advent service.
Enjoy and happy Advent everybody.