Y6 JHa - Tried to start a debating team and Y6 talked me out of it
Y6 JHa - Tried to start a debating team and Y6 talked me out of it
4 December 2020 (by Joe Hamill (joe.hamill))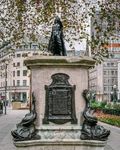 Monday was excellent. We had a review lesson of our topic on the transatlantic slave trade from term 1 (see, prior learning, aren't we good). We read into and discussed the economic impact of the slave trade on 17th and 18th century Britain, then looked a little more into its impact on modern Britain.
The main focus of the lesson was a debate around recent events and, more specifically: "Protestors in Bristol were right to bring down the statue of Edward Colston." Half of our class were arguing for this statement and half against. The debate was absolutely top-class. The children had sensible, well reasoned arguments and conducted the debate with respect and maturity - I was very proud of them.
In fact, just yesterday I saw on the news that the plinth that once supported Colston's statue in Bristol has had an interesting new addition (it's the main picture of this post). Double dojos for anyone who can tell me what the link is between that villainous chap and Bristol...
That wasn't our only treat on Monday though. Julia showed our class a very interesting and well put together slide show about Romanian Great Union Day - lots of information that was new to all of us!
As usual, all the pictures from Monday are in the gallery
Take care
Mr Hamill
P.S. Hamilton has been ruled out of this weekend's Sakhir Grand Prix in Bahrain, so Mercedes have borrowed rookie driver George Russell from Williams to replace him. It will be very interesting to see how he gets on, and might even decide whether "literally anyone on the grid could win the championship in that car".