Y2 TDo- Nectar Award
Y2 TDo- Nectar Award
8 December 2020 (by Teresa Doohan (teresa.doohan))
Are you ready for the test on Monday 14th December 2020?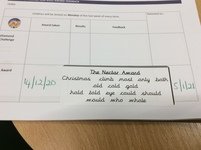 Please learn your spellings ready for our first test on Monday 14 th December 2020. The retest will be on the 5th January 2021.
Look on page 137 in your child's diary to see which words they need to learn. The words your child needs to learn over the holidays will be highlighted in green after the test has been completed on Monday.
Thank you for all your support!