Y6 JHa - We've got all the light moves
Y6 JHa - We've got all the light moves
8 December 2020 (by Joe Hamill (joe.hamill))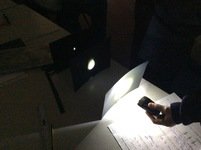 Our new science topic has kicked off with a crime for us to solve! An important laptop has mysteriously gone missing from a secondary school, and the police have asked our class for their help in solving the crime.
Who is kinda sus? We have been given a list of suspects and some experiments to do that will help us eliminate those suspects from the investigation. The pictures in the gallery show us carrying out our first investigation and demonstrating that, in line with our predictions (based on prior knowledge - teaching buzz word thanks), light does indeed travel in straight lines. This meant that we could eliminate one of the nefarious beasts from our enquiries.
Stay tuned for updates on our investigation as it progresses...