Y6 JHa - Up periscope!
Y6 JHa - Up periscope!
10 December 2020 (by Joe Hamill (joe.hamill))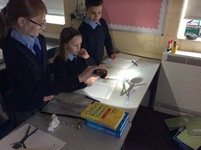 The mystery deepens! Our science lessons have lead us down the rabbit hole of solving the laptop theft. The police dropped off some more evidence in the form of what was observed on CCTV on the night of the crime and some of the materials that were recovered from the suspects when detained.
We used the information to carry two more experiments that helped us eliminate some more suspects. We didn't reach a conclusion as a class, but we will hopefully be hearing from DC Briers soon with an update on how the investigation is progressing...
As ever, pictures are in the gallery.
Stay tuned!