Fs2 - MHA Cheeky Elf
Fs2 - MHA Cheeky Elf
11 December 2020 (by Megan Harrison (megan.harrison))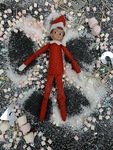 We have had a visitor in school since the beginning of December, and he has made himself at home!
Each morning, the children look for Buddy and Bella, the naughty elves who have joined us to see what we get up to at school.
The elf this morning was found in a bath of marshmellows not feeling very well. He had spots all over him! The children have kindly made cards for him to get well soon.
He made a mess in the role play corner yesterday. The children were shocked but worked as a team to tidy it up. They said they would show Buddy how to 'choose it, use it, put it away!'
I wonder what more fun he will bring next week. :)