Y6 JHa - We're in a stable condition
Y6 JHa - We're in a stable condition
15 December 2020 (by Joe Hamill (joe.hamill))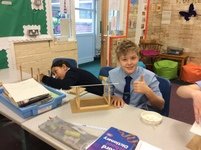 YES we love a Christmas pun! Dojos for any that make me laugh.
Anyway - we built some stables. First aid training was updated, St John's Ambulance were on site and I had all the paperwork ready to go, but luckily none of it was required. Despite using hacksaws to construct the frame of their stables, Y6 all left the classroom with their fingers, toes and other appendages that they entered with. Great success!
In the afternoon we created some rather artistic Christmas cards and 2021 calendars. I'm sure they have now taken pride of place on your mantelpiece/fridge.
The pictures in the gallery tell the deep and varied story of how our stables are taking shape. More to follow as they get closer to being finished (spoiler alert: they get browner).
HEADS UP: Expect them home on Thursday.
Stay tuned,
Mr Hamill.