Y6 JHa - But wait... There's myrrh!
Y6 JHa - But wait... There's myrrh!
17 December 2020 (by Joe Hamill (joe.hamill))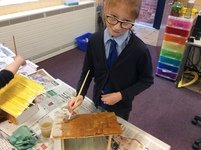 Yes there is plenty myrrh. The children have been hard at work finishing off their festive fabrications and they are very proud of their work. It was a day of brown paint and titivating, but they're mostly finished and ready for home (I bet you're thrilled).
After break, we were treated to a video call from our fearless leader who announced the learning heroes for this term: Sam How and Honey!
Sam was awarded Bright Blue: he has made fantastic progress in his writing, with the presentation and accuracy coming on very well since the start of term.
Honey was awarded Organised Orange: apart from always being ready to learn with the correct books and equipment, Honey organises her work in her book neatly and with purpose, helping her to learn more effectively.
Well done to you both.
Finally, they got the one they've been waiting for; the one they haven't stopped asking for; the one I'm sick of hearing about! Their hoodies...
YES they can be worn at school!
YES they can be worn in class!
YES they're all the same!