Y4 SBaLJo - Santa in School
Y4 SBaLJo - Santa in School
18 December 2020 (by Sarah Barlow (sarah.barlow))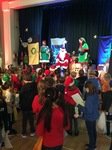 The children have had a lovely week - they've made Christmas cards, calendars and all sorts!
Today, Santa has been! The children spent lots of Santa tokens - a very exciting afternoon. Check out the gallery for some pictures.
Well done, year 4, you have been amazing this term. You have settled straight back into school and worked so hard! Have a well earned break and a very merry Christmas.