Y2 -TDo: E Safety
Y2 -TDo: E Safety
24 January 2021 (by Teresa Doohan (teresa.doohan))
Mrs Dixon teaches ICT safety skills to Year 2.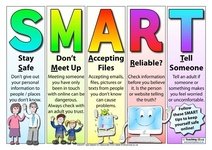 Because the children are spending more time online at home through accessing live lessons and online classwork, Mrs. Dixon has completed a 'stay safe online' lesson. The children uploaded fantastic songs, film clips and posters to show they know what to do if they are worried when they are online.
Support you child at home by checking privacy settings and being aware of the sites your child can access at home.
Please use the link below to support internet safety in your home.