Y5 NTu - The joys of being back!
Y5 NTu - The joys of being back!
15 March 2021 (by Nicola Turner (nicola.turner1))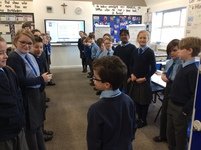 I have to say, it is so lovely being back in school altogether. I really did miss seeing the laughter and joy in their faces (which is best seen when they are with their friends and learning altogether).
Last week, they settled in very quickly and were happy to jump on the steam train (as it really is full steam ahead now with our learning). We have continued learning all about Beowulf's brave battle with Grendel and the children are eager to find out about tomorrow's exciting instalment of events. We have continued our learning about fractions, decimals and percentages in Maths. In RE, we have also been thinking about times when we face temptation, just like Jesus did in the desert and Judas did when he was offered 30 silver coins to betray Jesus. The children today took part in a 'conscience alley' exercise and they all gave excellent arguments (on both sides) as to whether Judas should give into temptation to betray Jesus or not. I was very impressed with their ideas and how well they tried to convince Judas.
Tomorrow, we are also excited for our drumming lesson as we will be performing the songs we have been learning. Don't worry, I will be recording these and posting them for you to see how amazing your children truly are.