MHA - Lost Pet
MHA - Lost Pet
26 March 2021 (by Megan Harrison (megan.harrison))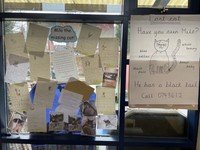 This week, we have received a very important letter from one of the school neighbours. He informed us in his letter that his cat, Milo, was missing! We were very worried for Milo and wanted to help Herbert look for him.
We made posters with descriptions of Milo so others knew to look for him too.
Luckily, we received another letter to let us know that Milo had come home. Pheewwww!
Well done everyone for all your amazing posters!
(Ps. It was all pretend but the children don't know this!)