Y1 ASt - PTFA Easter Bingo
Y1 ASt - PTFA Easter Bingo
26 March 2021 (by Amelia Stanley (amelia.stanley))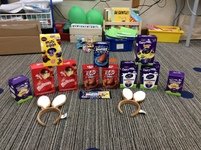 A huge 'THANK YOU' to the PTFA for organising and making it possible for us to do Easter egg bingo today. It was great fun and the children all really enjoyed it! Mrs Blant and I found it very hard not to eat the eggs before we played - Mrs Blant had her eye on the mini egg one!
A big thank you to all of the parents who donated eggs as well to make this possible.
Take a look at our gallery to see all of the winners!