Y4 ADwOSm Easter roundup
Y4 ADwOSm Easter roundup
1 April 2021 (by Olivia Smith (olivia.smith))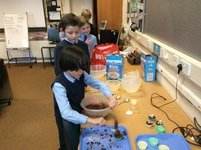 This week has been a very busy one indeed. We have learnt about and written up the Easter Story, highlighting key moments and how they link to our Easter celebrations. It has been a practical week in maths as we were introduced to the topic of area. We enjoyed finding the area of classroom objects such as the table tops by tiling them with paper squares. Now, we have linked this to an efficient multiplication method for calculating a rectangle's area. It was great to be able to share our persuasive speeches with some of you, thank you for joining our online 'assembly'. Look out for your child's work on their Google Classroom Stream to see their work.
Mrs G organised an Easter treat for us, we made and decorated chocolate crispy buns. It was very hard for some of us to keep our hands off the mini eggs until the end of the day…
We hope you have a restful Easter holiday, stay safe and we shall see you in a couple of weeks!