Y3SBr Measurement
Y3SBr Measurement
9 May 2021 (by Suzanne Britch (suzanne.britch))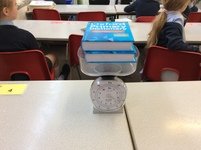 The children have been working really hard on measurement this week. We spent time weighing items using grams and kilograms, we estimated the mass of items and we compared them discussing which item was heavier or lighter. I was so impressed when the children used their knowledge of mass to help them understand volume. They are such superstars!
There are so many ways to practise measurement at home. Lots of the children said that they enjoy baking. Weighing out the ingredients is an excellent way of practising these skills.
Here are some questions that you could ask when baking:
Which ingredient is the heaviest? How much more flour do we need than sugar? How much sugar do you think is left in this packet? Let's weigh it to check if your estimate was correct.
Don't forget to check out our gallery.
Thank you for your support,
Miss Britch :)