Y4 SBaAAr - Shapes
Y4 SBaAAr - Shapes
11 May 2021 (by Sarah Barlow (sarah.barlow))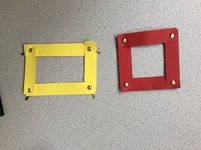 The children are learning lots of new knowledge in our shape topic in maths.
Today, we have been exploring the properties of different shapes including a parallelogram and rhombi!
We made a square and rectangle out of card and split pins and squashed them slightly to make a parallelogram and a rhombus. Can your child remember the difference between the two shapes?
We have also been recapping previous knowledge, including the properties of shapes (angles, parallel lines, equal sides, regular and irregular) and remembering key words such as 'quadrilateral' and 'irregular'.