Y3SBr - Outdoor Maths
Y3SBr - Outdoor Maths
11 May 2021 (by Suzanne Britch (suzanne.britch))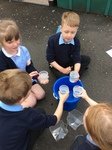 Today we were very lucky with the weather and we were able to take our learning outdoors!
We had a great Maths lesson where the children filled unmarked containers with water and estimated the volume of the container using their knowledge of 1 litre, 1/2 litre and 100ml. After thinking carefully about their estimate, they measured accurately how much water was in the container. When we got back to class, they calculated the difference between their estimate and actual measurement.
They were superstars!
Check out our gallery for pictures :)