Y6 JHa - So lonely...
Y6 JHa - So lonely...
12 May 2021 (by Joe Hamill (joe.hamill))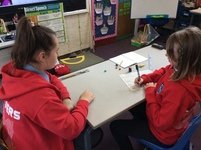 It must have been something they said. Tristan and Nancy were abandoned by their teams on two separate occasions last week! Boo hoo, but it did make for two HILARIOUS pictures, which are in the gallery.
The gallery also includes other fun stuff we've been up to:
a conscience alley activity in class reader
reasoning test practice featuring dice
more practice of our light and dark topic in art
How fun!
Stay tuned,
Mr Hamill