Y3SBr - Ancient Egyptian day
Y3SBr - Ancient Egyptian day
12 May 2021 (by Suzanne Britch (suzanne.britch))
What a great day!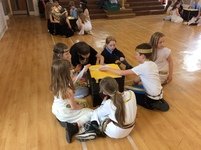 We have had such a great day! The children looked incredible in their costumes, thank you so much to you all for your great efforts. :)
We started the day learning about hieroglyphics to be able to draw and paint our own cartouches. They still need some finishing touches so keep an eye out for pictures later on in the week.
After our Egyptian art, the fun really began. The children took part in some activities that involved reasoning, logical thinking and team work all linked to Ancient Egyptians.
The children absolutely blew me away. They tackled the challenges in the true Saint Mary's way, with resilience, a growth midset and great teamwork. I was extremely proud of them.
Check out our gallery for pictures!