F2- MHA - Buddhism
F2- MHA - Buddhism
13 May 2021 (by Megan Harrison (megan.harrison))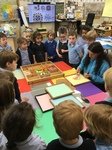 This week we have been looking at the religion, Buddhism.
We have learnt that the Buddhists are enlightened by Buddha who understands life in the deepest way possible. He does this by really concentrating and meditating.
We learnt about Karma and that if you do good in life, good things will happen to you.
We then made our own mandalas just like the Buddhists do when they meditate. They used lots of colours and created patterns using sand.
Take a look in our gallery.