Yerar 3 SBr - Egyptian dancing
Yerar 3 SBr - Egyptian dancing
22 May 2021 (by Suzanne Britch (suzanne.britch))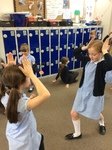 The children have been having such a good time learning some Egyptian dance moves.
Thank you Miss Spavold for Friday afternoon dancing!
As an end to our Ancient Egyptians topic, the children have worked reaaly hard and written some fantastic alternative endings to the story The Egyptian Cinderella. I am absolutely blown away by how much progress they have made with their writing. I am very proud!
Check out our gallery for some photographs!