Y5 Cineworld Trip – Friday 25th June 2021
Y5 Cineworld Trip – Friday 25th June 2021
11 June 2021 (by Joanne Eades (joanne.eades))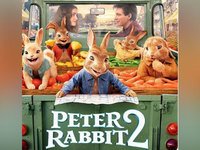 As a special end of year treat for the Year 5 children, we would like to take them to the Cinema to watch Peter Rabbit 2 at Cineworld in Chesterfield. This will reward the children for all of the hard work and resilience they have shown throughout an unsettled year of lockdowns and school closures.
The children will arrive at school at the normal time. We will then be travelling on foot down to Cineworld, where we will watch the film together.
After the cinema we will be walking back to school via McDonalds where the children will be able to buy their lunch. If children would rather, they can bring their own packed lunch on this day. We will then make our way over to Queen's Park (weather permitting!) before returning to school for the end of the school day.
For this to take place, we ask for a contribution of £4.60 to cover the cost of the cinema ticket. This is to be paid via Parent Pay by Friday 18th June 2021.
Children will also be allowed to wear non-uniform. They will need to bring money to cover the cost of their lunch in McDonalds and any additional money to spend at the cinema to purchase snacks (if they so wish).
To view our letter go to:https://www.st-marys.derbyshire.sch.uk/parents/letters-to-parents