Y4 SBaAAr - Maths
Y4 SBaAAr - Maths
16 June 2021 (by Sarah Barlow (sarah.barlow))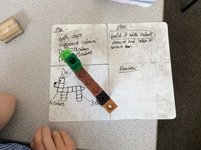 This week and last, we have been looking at patterns and sequences in maths. We have been working hard to use the meta walk to plan how to solve problems!
Me: What do I already know?
Plan: How am I going to solve the problem?
Do: Have a go!
Review: Was it a successful plan? Did it work? What other strategies could I have used?
Check out the gallery for maths photos and photos from Eden Camp!