Y4 OSmADw weekly roundup
Y4 OSmADw weekly roundup
18 June 2021 (by Olivia Smith (olivia.smith))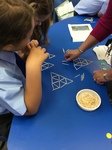 It's been a very practical and fun week of learning for the children.
Everyone loved the trip to Eden Camp. The children thoroughly enjoyed looking at model planes, scenes from WW2 houses and (I think the highlight for most) playing on the adventure play area!
Wednesday was an equally as exciting day with the launch of the Daily Mile track. It was a great opportunity to get involved in lots of sporting activities and the event was a joy to all. Many thanks to the PTFA who have made the track a possibility and Wednesday's launch so much fun.
During maths lessons, the children have used a range of resources to help their pattern and sequencing spotting skills. They particularly loved today's lesson which involved making triangles from matchsticks.
The children have continued learning about New Zealand and have compared the country to the UK. There are many similarities between the two places, many of which were surprising to all of us.
We have managed to get outside for a bit of class reader. The children did a conscience alley (ask the children what this is!) to explore the main character's feelings about stealing food from his evacuee family for German soldiers. The children came up with some brilliant statements and emotions.
Science has been equally as exciting, the topic of electricity is providing lots of opportunities to experiment and use equipment. The children made simple circuits and predicted what would happen if equipment was added, removed or changed in some way.
Enjoy the weekend after an extremely busy week!