Y6 MHe - Play in a Day
Y6 MHe - Play in a Day
25 June 2021 (by Mark Hemsley (mark.hemsley))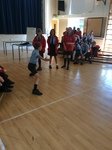 We've had a great week in Year 6: practicing the play; starting yearbooks and performing the 'Play in a Day.' The children did incredibly well to remember all their lines and put on some Oscar winning performances.
Make sure to rest up over the weekend in preparation for a busy few days at Hollowford!
See you all Monday morning.
Mr Hemsley