Year 2- TDo : Trip to Cleethorpes on 30/6/21
Year 2- TDo : Trip to Cleethorpes on 30/6/21
28 June 2021 (by Teresa Doohan (teresa.doohan))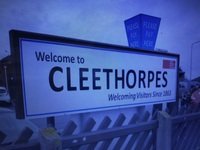 There seems to be a little confusion about tomorrow. Here is the information.
Please make sure your children are prepared for our trip with sun cream on if needed, waterproof coat , water bottle and a towel to wipe the sand off their feet. The children may come in their own clothes, but sensible footwear is needed as we are walking around Cleethorpes. The children will not need any money as we are not going in any shops and we are not going near the sea. Your child may bring a reading book or a note book and pencil for the coach journey but no toys. Unfortunately your child cannot bring a bucket and spade. We will provide a fruit snack, lunch at the restaurant and an ice-cream on the beach.

The blue gate on Cobden Road will be open at 8:15am just for our year 2 classes to come in early. We are hoping to register the children from 8:15am and leave by 8:30 am. The children will be collected from our morning club and dropped off safely at 4:30 pm on our return.

We will arrive back at 4:30 pm -providing traffic is not an issue. Please wait at the top of the drive to collect your child.


Thank you for all your support!