Y5 NTu and OMa - YWP trip - change to pick-up time
Y5 NTu and OMa - YWP trip - change to pick-up time
29 June 2021 (by Nicola Turner (nicola.turner1))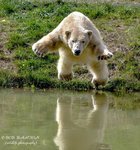 Due to the extension of Covid restrictions, we have been informed that the education session, which we had planned to have whilst at the Yorkshire Wildlife Park next Wednesday (7th July), will unfortunately no longer be able to take place. This means that we will now be back in time for home time (3.20pm) instead of a later return. The rest of the trip remains unchanged.
It is a shame that we will not be able to have the session, but it does mean that we will be able to spend longer seeing the animals (and spending in the shop). I'm sure the children are still going to have an amazing day.
Please keep your fingers crossed that the weather will be kind to us.
P.s. Please see the gallery for the photos of our exciting trip to the cinema from last week!