Y6 JHa & MHe - Literally hundreds of pictures
Y6 JHa & MHe - Literally hundreds of pictures
12 July 2021 (by Joe Hamill (joe.hamill))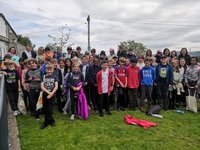 So I finally got all the pictures from Hollowford uploaded in one place… there are nearly 700!
They are all in one gallery so have a look through - I'm sure you'll be able to find yourself. My plan is to create a 'Hollowford Highlights' album this week that might be a little easier to look through. Happy scrolling!
ALSO:
End of Year Assembly
The Y6 end of year assembly will be this Friday (16th) @ 10am. Sadly, we still can't have parents in school, but we will be streaming the whole thing LIVE on Google Classroom! You will just need to be logged in with your child's Google account and follow the link that I will post right here on Jotter on Friday.
Cheers
Mr Hamill and Mr Hemsley