Y3 SBr and ALe - Sparkle walk and after school fun
Y3 SBr and ALe - Sparkle walk and after school fun
19 July 2021 (by Suzanne Britch (suzanne.britch))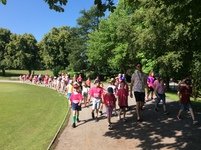 We had a fantastic time on Friday!
I am sure that you have heard all about it, but I just wanted to say how proud we were of the children. Despite the very hot weather, we managed to complete 5 laps of the park and, throughout the day, their behaviour was outstanding. They truly let their lights shine!
After the walk, the children enjoyed an afternoon of treats at school. It was an absolute pleasure to spend that quality time with them, and I will hold fond memories of it.
A big thank you to the staff that helped make it so much fun and to the PTFA for the snacks and ice cream. Finally, a HUGE thank you to Chester's for the delicious fish and chips. It was yummy!
Thank you for all of the donations to Ashgate Hospice. Please remember to bring into school any more donations and sponsor forms.
Photos are on the gallery, take at look at how happy the children were!