F2 LWd - Thank you!
F2 LWd - Thank you!
22 July 2021 (by Lauren Wood (lauren.wood))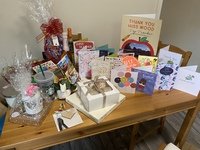 Wow, Miss Orwin and I want to say a huge, massive, ginormous thank you! You have overwhelmed us both with your thoughtful gifts and cards and we are so very grateful for each and everyone one of them.
We feel so lucky to have such lovely children and parents in our class. We will miss you all lots but we will be just down the corridor when you are in Year 1 so we will see you all the time! We hope you all have a lovely summer holiday and get lots of rest ready for more learning in Year 1.

See you all soon!
Miss Wood x