Y6 Sherwood Forest Trip Wednesday 15 September
Y6 Sherwood Forest Trip Wednesday 15 September
7 September 2021 (by Joanne Eades (joanne.eades))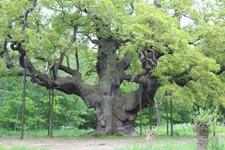 As part of our Robin Hood topic, we are going to visit his historical home, Sherwood Forest on Wednesday 15 September. Whilst we are there, we are going to be learning about how we used to live in the Medieval Times and gain an understanding of the legend of Robin Hood. The children will handle and discuss artefacts; visit the Major Oak and learn about the different jobs in the forest. During the afternoon session, the children will learn archery.
The children will need to arrive in school at 8.30am for a 9.00am departure. We will register the children in their normal classes before travelling by coach to Sherwood Forest. Our planned return to school will be approximately 4.00pm traffic permitting! However, if we incur any delays, we will notify you via School Jotter.
Children will need to wear their school uniforms (trainers may be worn) and bring a packed lunch and plenty to drink.
We request that you make a voluntary contribution on Parent Pay towards this visit of £13.00 per child. Where there are not enough voluntary contributions received, school are unable to make up the shortfall. We are required to inform you from the outset of the possibility of the visit being cancelled due to a shortfall in contributions.
Follow this link to fill in our consent form on our website: www.st-marys.derbyshire.sch.uk/parents/y6-sherwood-forest
You can find a copy of our letter: www.st-marys.derbyshire.sch.uk/parents/letters-to-parents
DEADLINE FOR PAYMENT AND CONSENT FORM IS MONDAY 13 SEPTEMBER 2021.