Y1 - SBA/AAR - RE
Y1 - SBA/AAR - RE
9 September 2021 (by Megan Harrison (megan.harrison))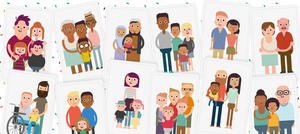 Hello Year 1!
In RE this term, we are learning about our Families. We have already discussed during our 'BIG Question' session why and what makes us a family. The children came up with some lovely ideas!
We would like for the children to share some photos of their own families. You are welcome to share these on google classroom or by bringing photos into school. Please could you bring these in next week ASAP via the diary. That way we can share them in class as and when they arrive.
We look forward to seeing your photos.
Many thanks,
Miss Arnold and Mrs Barlow